Snow Factory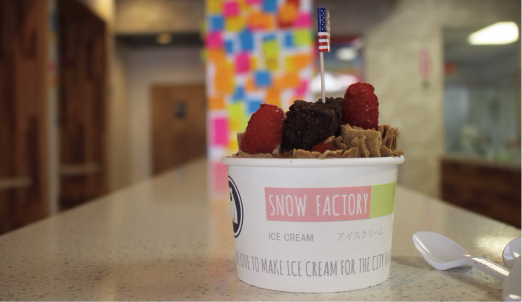 Ice cream rolls were initially popularized in Thailand, which is why the dessert is commonly referred to as Thai ice cream. The rolls are made on a hibachi table, which is kept at a temperature below 10 degrees Centigrade. A "liquid" ice cream is poured over the table, where toppings like fruit and candy are chopped up and incorporated.
After being spread and smoothed out, the cream crystallizes into a thin, frozen rectangular sheet. Then, the sheet is "rolled" through scraping the cream up with a metal spatula.
The process is immensely satisfying to watch, and in the Snow Factory, the entire thing is on display. The rollers and the hibachi table can be seen right behind the counter.
Snow Factory is a new place on the Loop that serves Thai Ice cream, or ice cream rolls. The shop inhabits the space where Cheesology used to be, tucked between Sunshine Daydream and 8 Dollar Deli.
Upon walking into the shop, pop music pulses from a large set of speakers. The "rollers" stand behind a sleek glass counter, and a table housing the speakers holds Chinese books. After ordering, there are many places to sit, including single booths, where colorful post-its with cute messages are posted all over the walls. There are also seats near the front window, where one could people-watch on the Loop.
Snow Factory does not only specialize in rolled ice cream, however.
The shop also makes egg waffle ice cream. Egg waffles have been a popular Hong Kong street snack for a while now, but the newest food craze is adding ice cream to a rolled up waffle. The egg waffles are made through a leavened flour batter, and, once they are pressed and cooked, the waffle is rolled up into a cone, and ice cream is then scooped into it.
With up to 30 different toppings and 13 flavors to choose from, Snow Factory accommodates a wide variety of tastes.
Almost magically, the creators of the ice cream find a way to arrange the toppings in the most appealing way.
I ordered an "Ujikintoki" – a Matcha Green Tea and Red Bean Paste flavored ice cream, with lychee, Matcha Pocky, and sweetened condensed milk as toppings.
The pocky stuck out of the rolls, and the lychee perched in the center of all four of them. Poking out of the lychee was a toothpick with an American flag wrapped around it.
I was pleased that the actual ice cream tasted as good as it looked. The texture was a little harder than standard ice cream, but I was willing to sacrifice the subtle change in texture for the aesthetic appeal.
It was still as sweet as regular ice cream, to my satisfaction. If you are looking for a fun and interesting twist on the conventional ice cream scoop, Snow Factory is certainly "must see" destination.