Spiking Sophia
How one CHS Sophomore is Changing the Volleyball Program
The stands watched silently as the Clayton and Ladue varsity volleyball teams battled for the winner of Volley for a Cure. The rally went on for a few minutes before the ball was set outside. CHS sophomore Sophia Boyd leaped up and slammed the ball down, scoring another point for Clayton. While Clayton was ultimately defeated, Boyd stood out with several strong plays.
Boyd transferred from MICDS to Clayton this year. While she is new to Clayton's volleyball program, she has already had an impact. Boyd is the team's strongest front row attacker and an energetic leader on the team. As an underclassman, Boyd was elected to be co-captain of the varsity squad.
Varsity head-coach Kyle McCord describes Boyd as "[Boyd] has a killer instinct as an outside attacker that definitely is lacking in other places. She brings a lot of leadership skills. After games, she's the first person in the huddle talking about the game, recapping the game, talking about the next game so she brings a lot of leadership as far as those rules goes."
Besides her influential attitude, Boyd brings a level of play to the team that has not been seen in many years.
"Obviously, she's an incredible player. When she gets a huge kill, it hypes all of us up. So that's really exciting," said teammate freshman Sarah Taylor.
"
"Anybody can watch her play you're going to be able to see what she can do."
— Kyle McCord
Boyd's skill is unmatched by other players at both Clayton and the surrounding area. Besides playing for one of the most elite volleyball clubs in St. Louis, she has what can only be described as killer instinct.
When most players play an out of system ball, they just try to get it over the net. Boyd putting an out of system ball into play is still a formidable attack. "Sophia Boyd's playing it safe ball, even if you're in position it's still tough ball to dig up,"  McCord said.
Boyd has played volleyball for 8 years. This fall season is her 15th season playing volleyball. This level of experience means that Boyd understands volleyball on a different level than other players.
"Talking to her about volleyball is a totally different level," McCord said.
Because of her experience and skill, Boyd is changing the mindset of the volleyball program.
"She's helped to change the culture a lot. I think on the varsity level we have not had a very big winning culture and having someone coming from the outside having won a lot in places she's been has helped change that culture," McCord said.
Sophomore Angela Xiao agrees, "Her positive energy always keeps the team up no matter what the score is. She knows what it's like to be successful and how her previous teams got successful so she brings that to the team."
Boyd is excited to be able to play for Clayton this year.
"I think this team is awesome. There's a really big sense of community all around the team. Everyone's always supportive, even when we get into ruts, you never feel down and there's someone there who's always there to pick you up," Boyd said.
McCord believes that Boyd's skill, leadership, and character will help the team flourish this season and in future seasons.
"She's an overall awesome person, we're happy to have her. Her play speaks for itself, those are things that anybody can watch her play you're going to be able to see what she can do." McCord said.
Leave a Comment
Your donation will support the student journalists of Clayton High School. Your contribution will allow us to purchase equipment and cover our annual website hosting costs.
About the Contributor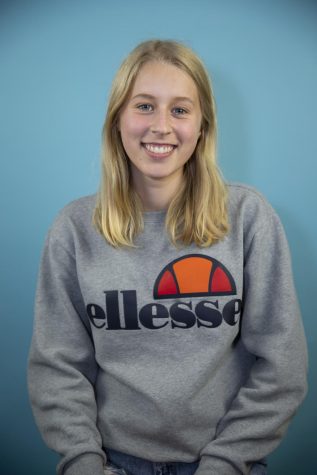 Sofia Erlin, Editor-in-Chief
Sofia is a senior and is Editor-In-Chief of the Globe this year. She started Globe because she is interested in writing and exploring different issues in the Clayton community....