PRO
With cautionary measures in place, the time has finally come for students to re-enter the classroom
Considering that Clayton High School plans to return to a form of in-person learning on Monday, November 9, there are many events happening around us that could prevent this plan. In Mid-October, our school planned to return to in-person learning by following a hybrid schedule with one half of all students in the morning, and the other half in the afternoon.
This decision comes as the whole United States has been reaching some of its highest spikes of coronavirus, surpassing the single-day record in July. On October 23, 2020, the United States reported more than 83,000 confirmed cases of COVID-19. Like other states in the Midwest, Missouri has been one of the states that has been reaching single day records within the range of 2,000 to 3,000 cases a day.
Learning virtually was something that many schools including the Clayton School District have been doing since Mid-March, which was when coronavirus first began surging in the U.S. Virtual learning has continued into the 2020-2021 school year, with one positive being that all students and teachers can stay safe.
However, while learning from home does have clear health implications, there is also a strong argument for returning students to the school building. And learning in person is something that many students hope to return to, regardless of the pandemic that has been surging across the country.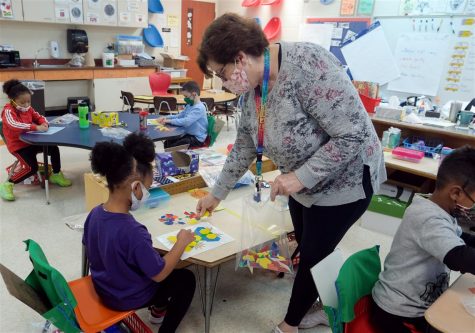 When learning in the building, one positive is that students will have easy ability to get help from teachers. Even though they can also get help during virtual office hours, it is easier for them to reach out to their teacher in person, so that they can easily ask questions and possibly look at the paper work together at the same time.
Additionally, students will also get to see their friends every day, which most people look forward to easily being able to communicate with their friends again. For many students being able to be in person with friends again would be beneficial from a social and emotional perspective.
This outlines one of the greatest challenges that the pandemic has created for all of us, lack of socialization can lead to isolation and depression. Humans are social creatures, we are designed to interact with one another and not just throw screens. So in general, socializing with friends is healthy for everyone, as long as that isn't happening in the classroom when you are supposed to be listening to the teacher. For the many schools that have reopened, this socialization aspect was a driving force behind those decisions.
A third positive of learning at school is that students can often learn more productively. In other words, students are usually more focused in the classroom than when they are just sitting at a desk in their bedroom.
When at home, students might often have their phones right next to them instead of away from them. In the classroom, students are forced to leave their phones in their backpacks instead of sitting on their desks, because teachers don't allow phones to be out. Secondly, if you hear some of your family talking, your dog barking and any other loud noises, it distracts from your full ability to learn new things, and your full ability to pay attention in class. In the school environment, the distractions are kept to a minimum, and while there are some students who simply decide to not focus on the lesson, or stay focused in class, for students who want to be engaged, the setting is just more conducive to learning.
"
Students who struggle more will likely struggle more online"
— Susanna Loeb
"Students who struggle more will likely struggle more online," said American education economist and Stanford University professor Susanna Loeb back in March 2020, when Clayton started virtual learning. For students who already struggle, virtual learning has been especially hard and being at school would be best for them as a learning environment.
So despite the different "hybrid" environment that we will encounter when returning to the school building, the benefit to learning will ultimately be worth the masks, social distancing and strange schedule.
Leave a Comment