Are TikTok Stars Artists?
"
It's engaged and playful with the viewer. It's all about improvisational composition and one-upping each other—you did this; now I'm going to twist it, flip it, and reverse it.
— Lily Kind
In the 21st century, a new medium of self expression has emerged, and with it a new set of critics have deemed it lesser, compared to more traditional forms of art. This platform: TikTok. The influencers of the new social media app are too often dismissed as childish and their successes are simplified to their good looks and some lucky timing, but the stars of TikTok are much more than modern media gives them credit for. The content they create has a profound impact on society and the platform gives voice to a new generation of artists.
TikTok influencers have a profound impact on society and their creativity and skills should be taken seriously.
Although it seems simple to become an overnight sensation on social media, the work put in by many TikTok stars is significant. Vast time commitments are put into the thinking, execution, and editing of videos.
In some ways, the short and fast paced nature of the app means even more work must be put into maintaining viewership and retaining attention. Successful content creators know how to appeal to large audiences and implement distinctive video editing styles to enhance their 30 second clips. While their work is new and unique, it doesn't make it any less valid than other accepted art forms. Even leaders in acclaimed fields have started to notice the impact TikTok is having and find value in this new style of art.
Lily Kind, the associate director of the Philadelphia studio Urban Movement Arts, believes TikTok dance is a form of folk dance, "It's engaged and playful with the viewer. It's all about improvisational composition and one-upping each other—you did this; now I'm going to twist it, flip it, and reverse it," she told The Atlantic.
By modernizing dance and creating a new type of social connection, TikTok stars are pushing the boundaries of what art can look like. This may seem like a dramatic interpretation of short and easy trends, but the attention these dances attract is a testament to their importance to society.
Videos with #renegade have been viewed 2.2 billion times. Dance trends with old sounds such as Kesha's 2010 song "Cannibal" was attempted by more than 9 million users and the trends of TikTok have given huge boosts in listeners to artists like Doja Cat, and Olivia Rodrigo.
Upcoming indie music writers and singers like Salem Ilese, Curtis Walters, and Tai Verdes have found recognition for their songs "Mad at Disney," "Stunnin'," and "Stuck in the Middle."
It is without a doubt that TikTok is a key part of the fame of acclaimed singers and is also introducing hundreds of new artists to the world. With its new and unique format, TikTok has leveled the playing field for mainstream artists and upcoming music producers leading to many emerging artists to find their footing through the app.
Beyond the world of music, creators like Rudy Willingham (@rudy_willingham), a photographer who uses paper cutouts to make unique images, Devon Rodriguez (@devonrodriguezart), a realistic pencil artist who sketches people on subway trains, and Sławek Kalkraut & Krzysztof Szymański (@menwiththepot), two Polish cooks who cook up delicious meals in the middle of the woods, are just a few examples of people using the app to spread their unique forms of expression.
Platforms like TikTok have only existed for the past few years, and in its time it has made waves in the world of pop culture. The many growing figures of the app have gone from zero followers, to getting millions of views in a matter of months. With the rapid success of the artists on TikTok, it isn't difficult to demean their work as a matter of luck, but in reality they have put in the work to make their creative ideas come to life.
The ability for young artists to push the boundaries in spite of critics is just what the world of art needs to expand and improve.
Leave a Comment
Your donation will support the student journalists of Clayton High School. Your contribution will allow us to purchase equipment and cover our annual website hosting costs.
About the Contributor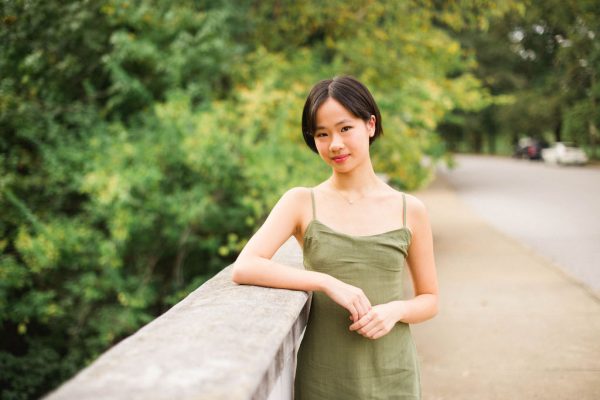 JiaLi Deck, Editor in Chief
JiaLi Deck is a senior at Clayton High School. When she first joined the Globe her sophomore year, she couldn't have ever imagined being Editor in Chief; however, as time went...