As the captain of he CHS field hockey team, senior Anna Krane views field hockey as a very important and valuable aspect of her life.
"I just really enjoy playing the sport," Krane said.  "Being with the team, being with a lot of really good friends, and just all of the life lessons.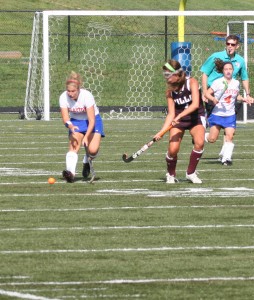 She takes her leadership role on the team seriously, but also contributes a cheerful disposition to the team.
"I pretty much have to encourage them to run—a lot—to do the conditioning, running, and stay focused during practice," Krane said.
Junior Lily Gage appreciates Krane's leadership skills and views her as a valuable source of encouragement to the team.
"Anna always encourages us to keep pushing ourselves, especially when we go on runs or are having trouble with a new skill," Gage said.  "Even when the rest of the team gets tired, she keeps running and that encourages the rest of us."
However, Krane is confident that the hard work will pay off and the team will succeed in the coming year.
"Yeah I think we'll do really well," Krane said.  "We have a lot of juniors and seniors who have been playing outside of high school, as well, so I think we can do really well this season."
Gage views Krane's impressive prowess on the field hockey field as a key component in the team's success.
"She's a really skillful player," Gage said.  "She has great ball control, really nice shots on goal, and she's really good at just moving the ball across the field and finding the open player."
In addition to looking forward to a great season with the Greyhounds, Krane also looks forward to playing for a college team next year.
"I just really like playing, so I can't imagine not having it," Krane said.  "It really helps with my time management."