Female Athlete of the Month: Alison Bayly
Hard work, determination, and talent: Three of the most sought after skills by any athletic coach. Four-year varsity player and second year team captain Alison Bayly encompasses these characteristics and is expected to have an outstanding season to close her high school career.
"Alison trains year round," head coach Paul Hoelscher said. "She is always seen in the Clayton area jogging outside in any weather. She is disciplined, reliable and incredibly determined to do well.  She is tireless because she works year round to stay in great shape.  Many students in Clayton pretend to be year round athletes, but they don't have the determination or discipline to really stay with it week after week. Alison hasn't gone three days for the last four seasons without running."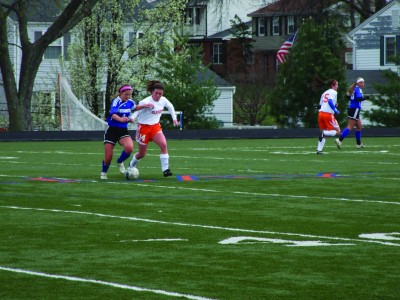 Bayly's strong work ethic is as evident to her teammates as it is to Hoelscher.
"Alison's role on the team is to lead by example," junior Andrea Stiffleman said. "She is always giving 110 percent effort and helps to maintain a serious tone in practice and at games."
It comes as no surprise that Bayly understands what is takes to be a good soccer player. She plays on select teams in the offseason and works tirelessly to maintain and improve her fitness throughout the year.
"To be a good soccer player you can never become complacent with your abilities," Bayly said. "No matter how much you have improved or how good you are, you must continue to push yourself."
Not only does her work ethic make Bayly an asset to the team, but also she plays center midfield, which Hoelscher contends to be "perhaps the most important position on the field at any time."
Bayly's leadership and drive make her an excellent player to fill such a position, where she can set an example for her teammates to help encourage them and lead them to a victory.
"Alison is not only a great leader, she is also a tremendous player," senior Lily Gage said. "She plays center mid and really helps to hold the team together when we're on the field. She helps a lot with transitions and switching fields."
While Bayly's work ethic makes it clear that she is committed to having a successful season, her number one goal is geared more towards her role as team captain.
"My number one goal for the season is to be a great team leader," Bayly said. "Last year as a captain I don't think I was as vocal as I could have been, so this year I am working on that."
Bayly is a standout due to her skill and determination, as well as her attitude towards her coach and her teammates. According to Hoelscher, Bayly's greatest strengths include "humility, kindness, [and] work ethic."
"It's easy to use ridiculous clichés in this type of article," Hoelscher said. "But Alison is literally one of the kindest people that I know. She is polite and kind – two qualities that will never go out of style. She cares about other people and has a selfless attitude about the team."
Her "selfless attitude" and hard work have earned Bayly a spot on the Grinnell College soccer team next year. Perhaps more importantly, she has earned the respect and love of her teammates.
"I love playing with Alison because I know she always has my back," Gage said. "Alison goes 110% to every ball, and her energy makes everyone else want to do the same."